[This seems to get lost in discussions. Everyone is at risk due to the proximity of smart meters on your homes The radiation exposure proximity is many times higher. There is no escaping this in your home. Please watch this video and see for yourself. https://www.youtube.com/watch?v=4NTSejgsjTc NO STUDIES ON SMART METERS IMPACT ON HUMANS THERE ARE DELETIRIOUS FREQUENCIES OTHER THAN JUST THE 900MHz.
Links to studies: http://www.ncbi.nlm.nih.gov/pubmed/17…http://www.ncbi.nlm.nih.gov/pubmed/19…https://www.ncbi.nlm.nih.gov/pubmed/1…http://www.ncbi.nlm.nih.gov/pubmed/18…http://www.ncbi.nlm.nih.gov/pmc/artic…http://www.ncbi.nlm.nih.gov/pmc/artic…http://www.ncbi.nlm.nih.gov/pmc/artic…http://www.ncbi.nlm.nih.gov/pubmed/16…http://www.ncbi.nlm.nih.gov/pubmed/19…https://www.ncbi.nlm.nih.gov/pubmed?c…https://www.ncbi.nlm.nih.gov/pubmed?l…
License
Creative Commons Attribution license (reuse allowed)]
SANDAURA
Debate over cell tower safety returns to Pittsfield health panel, with new report in hand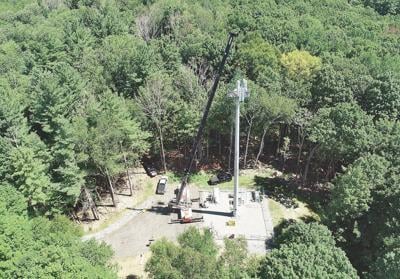 PITTSFIELD — Though signed, sealed and delivered, a new technical report on a Pittsfield cell tower's operation isn't likely to resolve public questions about the 115-foot monopole's safety.
On Wednesday night, the city's Board of Health is scheduled to discuss findings in a nine-page study the city commissioned this spring into levels of radio frequency radiation produced by a tower that began operating in September at the rear of an 877 South St. parcel.
Since the Verizon Wireless device powered up, residents of the Alma Street area have questioned its safety and relayed anecdotal accounts of illness to city officials, including the City Council.
In June, an Edison, N.J., company known as V-COMM Telecommunications Engineering, hired by Health Director Gina Armstrong, sent a technician to test radiation levels at 17 sites around the tower.
That study found that the maximum radio frequency radiation detected during field tests June 10 was 1.66 percent of the Federal Communications Commission standard.
"All measurements were well below the FCC's public standard, and there were negligible differences observed in the measured exposure levels at various locations while performing the survey," according to the V-COMM report.
The health board has been grappling with the issue for months. It will discuss those findings at an in-person session that starts at 6 p.m. Wednesday in the basement auditorium of the Berkshire Athenaeum, at 1 Wendell Ave.
Safety debated
On Monday night, nearly four dozen residents of the area listened to an online presentation by Kent A. Chamberlin, head of the Electrical and Computer Engineering Department at the University of New Hampshire. Chamberlain participated in a recent inquiry into the safety of electromagnetic energy for the state of New Hampshire. Download PDF
In an hourlong talk while using slides, Chamberlin shared examples from mainstream scientific journals that have found that close exposure to radio frequency radiation has adverse effects on human health.
In 2020, a University of Washington emeritus professor updated a study in which he summarized findings from studies into the health effects of radio frequency radiation. That researcher, Henry Lai, looked at more than 1,000 studies. He found that 73 percent of 335 papers on the topic of neurological effects from electromagnetic radiation found consequences from exposure; 65 percent of 348 studies on genetics found effects from exposure.
Chamberlin and others contend that the FCC's limits, cited in the V-COMM study, are outdated and fail to protect people. Chamberlin noted that the FCC levels were established in the 1990s, a decade before the advent of the iPhone and other smartphones that depend on radio frequency radiation.
"We can't trust those limits because they do not protect us," said Cecelia Doucette, director of the group Massachusetts for Safe Technology. "We really take issue with how the V-COMM report was done."
Theodora Scarato, executive director of the nonprofit Environmental Health Trust, told the forum Monday that it is not safe to use the FCC's allowable levels as a measure of what's safe.
"It is irrelevant to the symptoms that [people] are reporting," she said.
Scarato's nonprofit and the group Children's Health Defense filed a lawsuit against the FCC last July, claiming that the agency has failed to update its radio frequency safety guidelines in light of new technologies, including 5G.
The same law that set the FCC standards, the Telecommunications Act of 1996, barred state and local governments from regulating facilities like cell towers on the basis of perceived environmental effects.
Courtney Gilardi, the Alma Street resident who has led neighborhood efforts to examine the safety of the tower, said she believes more and more city officials are acknowledging and supporting residents' concerns.
"It's not just an injured neighborhood talking about this," she said. "The dialogues are continuing, despite these V-COMM results."
Larry Parnass can be reached at lparnass@berkshireeagle.com and 413-588-8341.
https://www.berkshireeagle.com/news/local/debate-over-cell-tower-safety-returns-to-pittsfield-health-panel-with-new-report-in-hand/article_76192c30-de98-11eb-a248-636d4f43ef52.html