Duke Energy
Citizens from across western NC testify at utilities meeting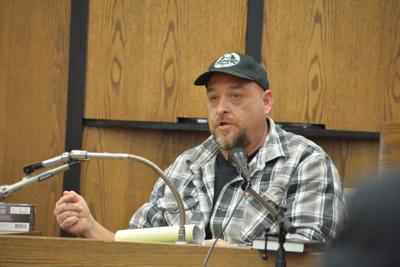 The normally dark halls of the Burke County Courthouse were lit Thursday night as a public hearing was held by the North Carolina Utilities Commission.
The hearing came after Duke Energy filed an application Sept. 30 with the commission requesting authority to increase its rates for electric service to produce an additional $445.3 million in retail base revenue, according to the filing.
The company is looking to raise rates by 10.3 percent for residential customers, according to the filing with the commission. However, after "refund of certain tax benefits," the rate increase would be 6.7 percent.
On the company's website, it says bills for customers who use 1,000 kilowatt-hours per month would rise from $108.20 per month to $116.26.
It cites the reasons for the rate increase as its desire to shift to cleaner energy, with it closing coal-fired plants sooner and managing coal ash and closing coal ash basins operating in the Carolinas, according to the Duke Energy website.
Other reasons Duke Energy cited for the increase include "building a smart-thinking grid" to support growing solar power, battery storage, microgrids and electric vehicles.
The company also named continued grid improvements to make it resistant to power outages from severe weather and flooding, and more protected against physical and cyber threats.
However, Duke Energy Florida proposed a rate decrease of 3 percent for its customers for the year 2020.
"The company plans to reduce Florida rates by more than 3 percent while adding more solar power and making grid improvements to enhance reliability, security and resilience in 2020 and beyond," the company said in a Sept. 16 press release.
Those customers would be saving around $4.69 per month in households that use 1,000 kilowatt-hours per month, the company said.
The News Herald asked a Duke Energy representative why Florida customers would be seeing a rate drop and still have some of the same improvements that the company wants to hike rates in North Carolina to pay for, but no response was received by press time.
The hearing in Morganton was one of four that will be held across the state to collect testimony from Duke Energy customers leading up to an evidentiary meeting March 23 at 2 p.m. in Raleigh for testimony and cross-examination of expert witnesses, according to the case docket.
One of the customers who spoke to the Commission was Chris Kanipe, of Taylorsville, who told the Commission of his frustration with the company and its policy on installing new smart meters.
Kanipe said he attempted to opt out of the smart meter system multiple times, but that he received conflicting information from Duke Energy customer service representatives.
Listing names of representatives and the dates he called them, Kanipe said one representative told him that to opt out, he would need to pay $150.
He said another representative told him he wouldn't have to pay anything to opt out, but that it would take five to seven business days to have someone uninstall the smart meter and put in a new meter.