"Most of the east coast already has smart meters and have for nearly 15 years"…and the Utilities continue to lie to customers when asked if they in fact, have a smart meter…..Sandaura
Pacific Power begins smart meter installations
By the end of January, Pacific Power will have installed 25,000 smart meters in Coos County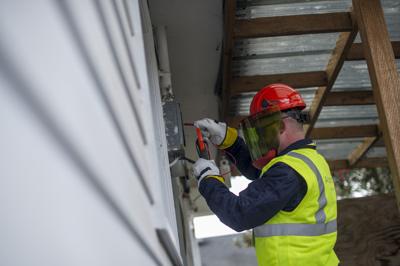 COOS COUNTY — Smart meters are now being installed in local homes.
The installations began two weeks ago and will continue through the end of January.
To demonstrate how quick the process is of switching out the old meter for the new one, Pacific Power invited The World to a North Bend resident's home on Wednesday.
"I'm looking forward to real-time opportunities of information," said Tom Burnett as he and members of Pacific Power stood outside his home. "I used to go outside until the black line goes around so I know which item in the house is consuming electricity, but now I can time track that according to the information on my bill. … And there is a factor of staying up with technology. If we don't keep up with the changes, we will get left behind."
Burnett volunteered his house for the demonstration, eager to be one of the first 25,000 homes in Coos County to have a new smart meter.
According to a press release in early November, "In all, Pacific Power will replace 590,000 meters in communities across the state from now through fall 2019."
Also present for the demonstration was Regional Business Manager Sam Carter with Pacific Power, who said that several hundred installations are happening now every day.
"So far we've gotten a lot of great feedback from customers about the technology, how they are able to view their energy usage hour-by-hour and find areas where they can save money," Carter said.
Last month, Pacific Power held a community workshop to answer questions about the new meters. As The World previously reported, during that workshop Oregon Energy Green analyst Jason Turner stood next to one of the new smart meters and pointed out that 70 million have already been installed throughout the United States. Most of the east coast already has smart meters and have for nearly 15 years.
"We skipped the first three versions of the smart meter," Turner said in a previous interview. "When you hear people talk about them, you hear about fires, but those were the early versions."