Smart meter installation continues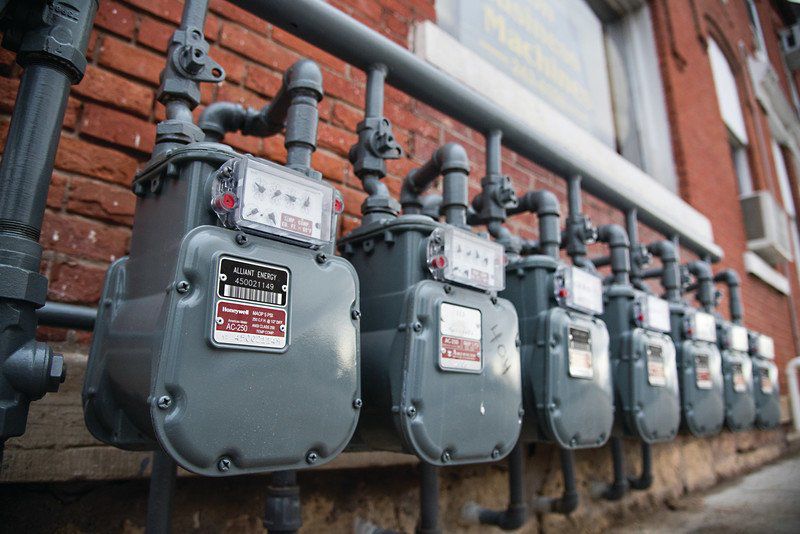 CLINTON — Alliant Energy's smart meter installation is continuting in the Clinton area.
The installation started in early February and is said to be completed by late May.
The two-way RF (radio frequency) meters have been in Wisconsin for a decade, strengthening billing accuracy and detecting outages faster and more efficient, officials said. In a previous interview, Annemarie Newman said it takes the guesswork out of an outage.
"We know immediately where it is at, and how many there are," Newman said at the time.
Though Clinton is halfway through installation, these meters won't begin to read energy usage until the construction of back end dissemination — which won't be finished for another year.
Alliant's side of the two-way frequency, the back end communications, collects data, or information, about customer energy usage and puts it into the billing system. Newman said that as early as the end of 2018, those who first had meters installed could see an activation in the RF transmission.
"(Before that) we have testing and validation that we do to be thorough, to make sure data is coming through accurately," Newman said. "Because this is how your bill is calculated, right? So, we have additional validation procedures to make sure that all of what we collect comes through and is billed correctly."
Meter readers will lose their positions, though Newman ensures the company is doing the most to facilitate transfers within Alliant Energy or outside the company. Until the completion of its receiving communications, though, meter readers will continue their work.
There is an operational center in Clinton on North Second Street.
Newman said the transition to smart meters is a "no surprise basis" in the company. They have been open to trainings, change in career within Alliant, and helping meter readers find positions outside the company.
She added that it was "normal in business" for positions to become "obsolete," but feels that Alliant is being dynamic to retain their employees.
"Will we have people reading meters for Alliant Energy in the numbers that we have today? No," Newman said. "Are we, however, being very proactive with those employees and offering retraining and new positions? Absolutely."
Job loss is one issue that Iowans, like petitions in Fairfield and Cedar Rapids, are having trouble swallowing when it comes to the new technology. That, and the "dangers" — as several blogs and comments refer to it — of smart meter frequencies. Newman said of the more than 170,000 meters already installed in Iowa, less than 1 percent of customers have requested to opt-out or had concerns. Alliant will work with these customers one-on-one and will not install the meter, she said, until a cost for manual processing is decided by the Iowa Utility Board (IUB).
In Cedar Rapids, there's a petition against the smart meters, with nearly 400 signatures. Many in these areas have opted out of utilizing the RF meters, and instead using a non-transmitting smart meter for a fee. The tariff, for manual labor for these types of meters, is between $15-$25 per system and is currently being debated by the IUB. This proposal is still within the board, as it was filed in January.
"We will be responsive, participate in the review process," Newman said.
In the meantime, she said, informational packets have been sent out to customers on the opt-out list.
Those who are concerned about the repercussion of a smart meter have passed around an InPower Movement film "Take Back Your Power" — which has won awards like Indie Fest Annual Humanitarian award and Aware Guide Transformational Documentary of the Year.
The film claims smart meters show an increase in utility bills, RF radiation impacting health and a violation of privacy rights.
Alliant Energy claims the new meters collect total electric or gas usage, voltage, meter temperature and momentary outages. The smart meters do not have access to customer identifying information, like name and address. The company also claimed that it is not capable, nor will it ever be capable, of determining what is using the energy (i.e. computer, AC, etc.).
RF is fixed at a 2-watt transmission, which signals back to Alliant every four hours for .15 seconds. When the meter isn't sending updates, it stands in "listening mode" which has no output wattage. The smart meters' frequency is a low-energy RF similar to a cellphone or microwave. The Federal Communications Commission regulates the frequency levels; Alliant's meters is "many times lower" than the standard, it stated in a FAQ sheet.
Meters are installed, like previous ones (which have been commissioned for 50 years) outside. The American Cancer Society claimed that smart meters' exposure depends on the proximity to the individual; also smart meters communicate 1 percent of the time.
The low-energy RF, according to the American Cancer Society, is not strong enough to remove charged particles, called a non-ionizing radiation. It is a possible carcinogen, but the American Cancer Society only noted one study that linked cellphone use (which is similar to the smart meters) and a specific type of brain tumor. The risk, if any, is not clear.
The society reported "walls between the person and the smart meter's antenna further reduce the amount of RF energy exposure. This means that the amount of RF radiation that someone would be exposed to from a smart meter is probably much lower than the amount that they would be exposed to from other sources."
http://www.clintonherald.com/news/local_news/smart-meter-installation-continues/article_50f04d28-e94c-5603-b634-05b13033e18a.html